We're taking you back to 1991 with this one. For some of you it'll seem like only yesterday. For others, you might not even have been born! But all of you will love the feel of this slot, which is based on what is arguably the greatest fighting game of all time.
The game is perfect for playing on PC and mobile phone
Nostalgic gameplay
Two bonus rounds
Incredible levels with bosses
Some players can find it difficult
Street Fighter II™ Video Slot Review
Street Fighter II is a stimulator slot that has come back to us after a long time. The game will transfer you to the very early 90-s since you will perform in the street arena together with the fighters of various classes. The NetEnt Company released this slot in 2020, with that making a great present for its old loyal players. What is more, the developers have retained all original details, a soundtrack, and that typical clumsy animation is still there, as well as the characters that have not undergone a redesign. Having released this slot after such a long period, the developers reminded all players what the games looked like in the distant past, for which we are deeply grateful, of course. And you can learn the details of the Street Fighter II slot machine in our review below.
Slot Details
| | |
| --- | --- |
| Name | Street Fighter II |
| Software | NetEnt |
| Slot Type | Video Slot |
| Paylines | Cluster pays |
| Jackpot | No |
| Reels | 5 |
Street Fighter II Slot Guide
The Street Fighter 2 slot machine has a low /high volatility status, with that providing a player the opportunity to win a big number of multiplies. Also, the video slot can operate in a medium mode, that is, to give a player a chance to win more often, but the winning amount will be significantly lower. To stabilize the entire winning, a player can change a bet amount. A minimal permitted betting is € 0.20, and the maximal one reaches the heights of € 700. If we compare some number of slots of the NetEnt developer, it will be clear that Street Fighter II has probably one of the biggest maximal bets for one spin. But if you run the game with a high roll, don't be afraid of this sum, since the funds return from the bets you have made is RTP 96.06%, and it is more than the other developers of the similar games offer.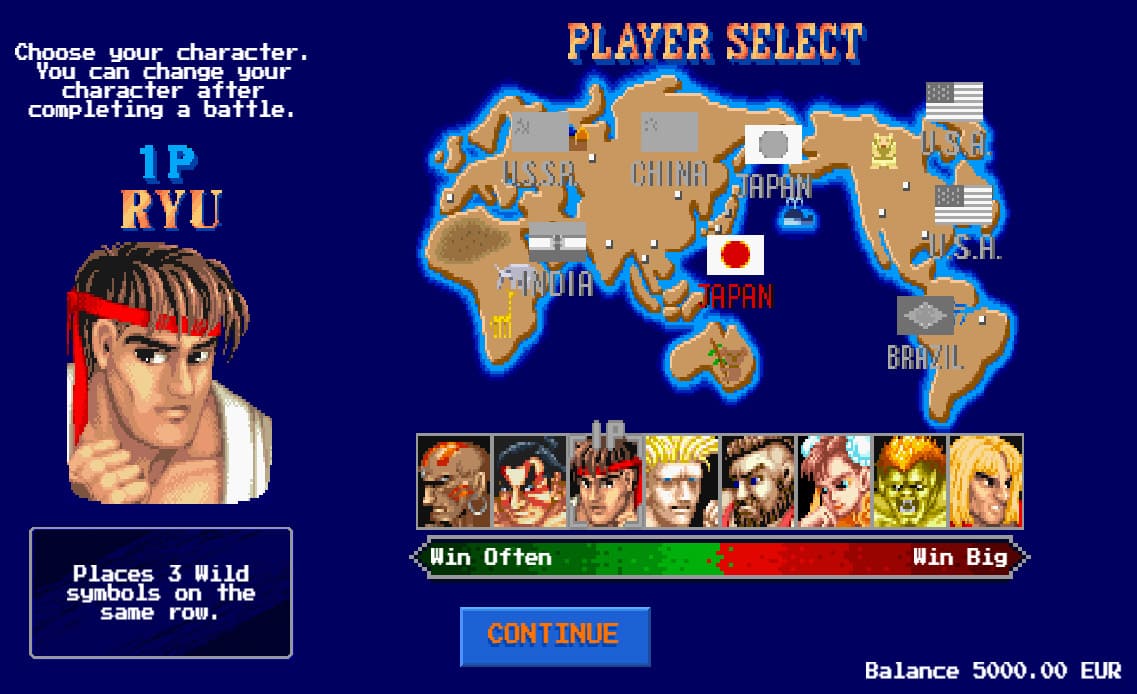 If you have opened the Street Fighter II slot for the first time, the slot's active menu may be helpful. By changing your bet amount, the symbols in the active menu will change their values automatically, thus, you will be able to monitor your funds and also realize what payout you can get for a particular line. Plus, in the corresponding menu, you can study in detail all functions and active symbols.
Features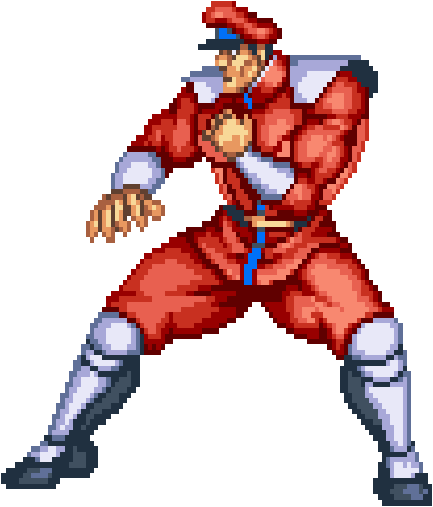 To get a bonus game, you are going to defeat your opponent in the street fight. You can do it by gathering successful combinations and also by making "wild" blows. As soon as a line with the opponent's lives is zero, a bonus game is triggered. There, you will also have to triumph over one of four bosses. For every winning, a player moves to the next tour, but at that, he will additionally get 2х multiplies of the entire winning. Having won over the second, third, and fourth bosses, a player will be able to get up to 10х multiplies of the total winning in the bonus game.
Boss Free Spins
| | | |
| --- | --- | --- |
| Level | Multiplication | Opponent |
| 1 | 2х | Balrog |
| 2 | 3х | Vega |
| 3 | 5х | Sagat |
| 4 | 10х | M.Bison |
Symbols and Functions
The total number of symbols in the Street Fighter II slot machine is 28, and 24 of them are highly-paid. The highly-paid symbols a player gets for the winning combination always look like your opponents or a character for which you play. A player can get from 0.25х to 30х for a complete line with one of the symbols. The low-paid slot symbols are the suits of the playing cards, for which a player can get no more than 10х multiplies of the bet he made.
Having beaten away 7 high-range symbols, a player triggers the "wild" function, where an extra combo blow will become active. During the blow, a player gets a further award and also reduces the values of the opponent's lives. The second function is "Car smash", it becomes active when the value of your player's lives is close to zero. In the Car smash's bonus game, a player is to break a car, which gives you a further award for every blow.
RTP character
Ryu – 96.02%
Ken – 96.06%
E.Honda – 96.05%
Blanka – 96.08%
Dhalsim – 96.04%
Chun Li – 96.08%
Guile – 96.04%
Zangief – 96.08%
Conclusion
The Street Fighter II slot machine seems to become a real favorite for the players who used to play it with a games console in a far off childhood. Here, the original design is maintained, and also, the old 8bit music and, of course, the old characters with their famous blows. As for the weak points, we can note only the fact that this video slot catches you and takes your mind off from the balance, which you can gamble away at a stroke. You can play on the Street Fighter II slot on PC or a mobile version, the game is perfectly adapted to various mobile devices and tablets. The Casinoid.in team recommends this slot that you can easily find in the best online casinos for Indian clients!