Review of RioBet Affiliate Program
RioBet has been operating as a casino for more than 5 years, but the affiliate program came only in 2017. But for this period, the RioBet affiliate system has gained great popularity among webmasters. The affiliate program is based on the Every Matrix platform, which allows to refresh statistics in real time. This system works on the RevShare method, which means that the partner gets a profit from the amount of players' losses, and also on the classic CPA scheme.
RioBet affiliate program is highly recommended and has at its own disposal attractive bonuses for new members. The high-quality licensed software, detailed statistics – all this allows you to earn money by bringing visitors' traffic to the gambling websites.
Affiliate Program Details
Profile Registration in RioBet Affiliates
New clients need to be registered in order to become a RioBet partner. During registration, it is recommended to read all terms and conditions carefully.
Registering on the RioBet Affiliate oficial website is extremely simple: you have to enter your username, come up with a strong password, your website address, email, country, and currency. Then you only have to wait for your registration to be confirmed.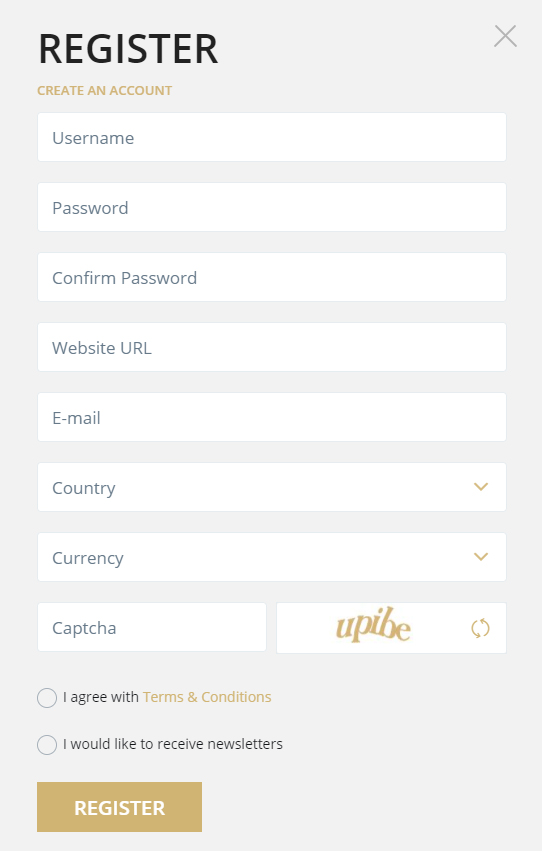 To be informed about the latest promotions and important events, it is possible to subscribe to the RioBet Affiliate advertising newsletter.
Commission Plan
RioBet Affiliate commission percentage is, as always, calculated based on the number of people referred:
You will receive 40% for 5 attracted users.
From 6 to10 gamblers are paid 45%
For 50% reward you will need to bring 11-25 users.
And more than 26 gamers will allow you to get max 60% profit.

For the trusted webmasters RioBet affiliate program offers not only earnings on RevShare, but also the possibility of work on the CPA model; payouts under this scheme are up to $250. If you want to use a hybrid scheme of rewards, you should negotiate the conditions individually.
On the RioBet referral program you can get 5%+3%+2%. In other words, you invite a webmaster and earn 5% of his income. If he will bring new contacts, then you will also be rewarded for them (2% and 3%).
To withdraw your earnings in RioBet Affiliate you can use electronic wallets (Qiwi, WebMoney, Yandex, BTC, Neteller, Skrill) or bank cards Mastercard/Visa. Payments are processed during the first 2 weeks of the month.
The RioBet Affiliate system supplies you with fully prepared promos, all you need to do is to copy the code and put it on your website. You can choose from active links, banners, or app demos. If you need any help or advice, qualified managers of Riobet will always come to your assistance and provide you with quality support.
RioBet Affiliates Terms and Conditions
There are some rules, which have to be followed when you work with an affiliate: you can't use spam to bring in traffic, you can't invite underage visitors or add a personal account to play casino games. The minimum monthly payment amount is €20. In cases where the profit share does not reach or exceed €20, RioBet reserves the right to withhold this amount and the payment will be made when the profit share reaches or exceeds €20. To avoid any misunderstandings, funds will only be credited to your account if you have a positive balance of more than €10 in any given month.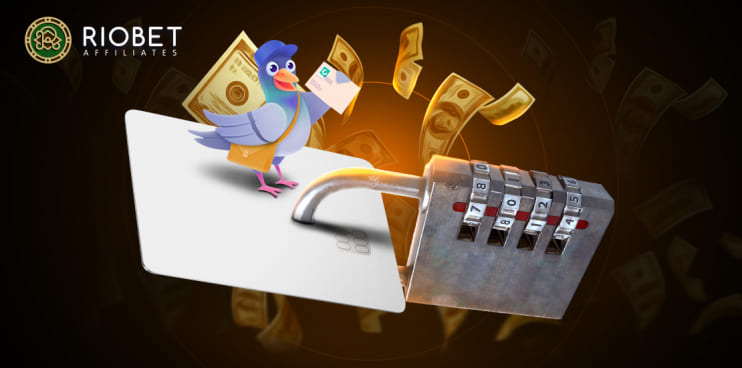 Online Casino Brands from RioBet Affiliates
Of course, RioBet Affiliates represents the brand Riobet, which nowadays needs no introduction. This online casino already proved itself to be one of the best online casinos in the world for a long time. Its list of advantages includes more than 2,500 popular games, responsive customer service, regular bonuses and quick payouts. On top of that, Riobet has its own bookmaker's office, which for some players may be a gamechanger.
[aces-casinos-4 items_number="15″ external_link="1″ items_id=" 802″ columns="4″ ]
Conclusion
Riobet Affiliates is an excellent affiliate program with solid payouts and attractive fees. Any webmaster with a developed website can easily become an affiliate. Finding new clients is not a problem either-Riobet is a well known and trusted brand. The good online reviews only prove our conclusion: RioBet Affiliate is a strong and reputable affiliate program.